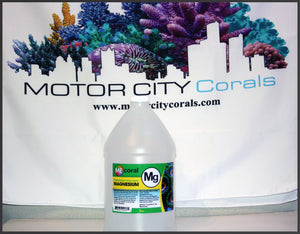 MECoral Magnesium (Mg)  Gallon Jugs are ready to use after being filled with RODI water.  MECoral uses only Pharmaceutical grade ingredients to achieve the highest quality, highest purity, and highest concentration possible.  MECoral Mg is ammonia, phosphate, nitrate and bromide free. We use a unique blend of pharmaceutical grade Magnesium Chloride, and Magnesium Sulfate powder.  MECoral Mg is crystal clear with no residue or impurities on the bottom.
Treat your corals kindly. 
Magnesium (Mg) is important in helping Ca and Kh interact properly. If Mg is low, Ca and Kh levels will not properly be maintained as they precipitate out of aquariums. This causes the need to increase Ca and Kh to reach our target levels which wastes chemicals.  Target range for Mg is 1280-1380.  Test appropriately.  Often when Ca and Kh levels become unbalanced it is due to low Mg.  For best results, MECoral Mg should be used with MECoral Calcium and Alkalinity.
Quick Guide: To raise Mg 10 ppm (1280-1290) in an aquarium with 100 gallons of seawater,  add 80 ml or 2.7 fl oz.  Test as need
Ingredients:  Pharmaceutical grade USP Magnesium Chloride Hexahydrate, Pharmaceutical Grade USP Magnesium Sulfate Anhydrous
Caution: Not for human use or consumption.  Keep away from children and pets.  If swallowed, do not induce vomiting.  Drink water and call a doctor.
Shipping Note: Gallon jugs are shipped concentrated and need to be topped off with RODI water. Do not use concentrate without adding water.