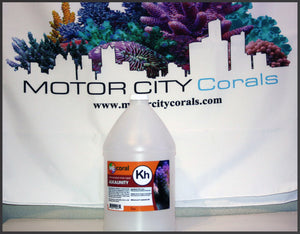 MECoral 1-gallon Kh liquid solution is ready to use once it is filled with RODI water. MECoral uses only Pharmaceutical Grade raw material to achieve the highest quality, highest purity, and the highest concentration possible. MECoral Kh is crystal clear with no residual impurities. Use along with MECoral Calcium for best results. Treat your corals kindly!
Alkalinity (Kh), along with Calcium (Ca), gets consumed by corals daily. This consumption needs to be replaced. The target range for Kh is 8-10 dkh. Test often with a quality test kit.  It is important to keep Kh as stable as possible without big fluctuations. This is why Kh is typically used along with Ca as part of a 2-part dosing system.  Kh and Ca can be dosed manually if done in small amounts while monitoring your systems Ph level. MeCoral Kh is designed to raise Ph.
Quick guide: To raise Kh .10 dkh or from 8.00 to 8.10 in 100 gallons of aquarium water, add 5ml. Drip slowly and test as needed.
Ingredients: Pharmaceutical Grade USP Sodium Carbonate
Caution: Not for human consumption.  Keep away from children and pets.  If swallowed drink water, do not induce vomiting.  Call the doctor.
Shipping note: Gallon containers are shipped concentrated and need to be topped off with RODI water, do not use without filling the gallon container with RODI water.